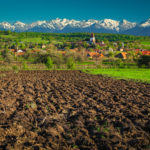 Efforts to route some Ukrainian agricultural exports through Romania's port of Constanta could transform the country's role in global ag markets.
Managing director Mike LeSage says last month's deal with Northwest Farms reflects the key role of cage-free egg production within the firm's Sustainable Agriculture Fund strategy.
Cascadia MD George Sent says Pacific Farms drew interest from private equity investors attracted to its role in provision of imported Chinese garlic to the US.
The Teachers Retirement System of Illinois is among the investors in a junior debt-focused vehicle, which a source tells Agri Investor is seeking $500m.
Principal Jean-Philippe Syed says European retailers including Carrefour, Lidl and Aldi established multi-year relationships with North African producers following covid-19-related supply disruption last year.
Executive director Gil Adotevi describes how ADQ is supporting production of crops in Abu Dhabi and the role it is carving out in global supply chains.
At least five parties have reportedly expressed interest in assets that include a soybean processing facility, an ancient grains unit and storage facilities devoted to organic and non-GMO supply.
Ejnar Knudsen says US pensions are among LPs in a distinct AGR vehicle focused on the type of ag-related real assets that proved resilient throughout covid-19-related shutdowns.
Fonds Souverain de Djibouti director general Mamadou Mbaye says fisheries, indoor ag and agribusiness processing are among markets that could eventually be well-suited to investments of between $50m and $100m.
A source familiar with the Nasdaq-listed healthy food and beverage company says plant-based toppings, creamers, powders and oat derivatives are among related markets potentially of interest.