The death of Yale University chief investment officer David Swensen sent reverberations through the investment industry last week.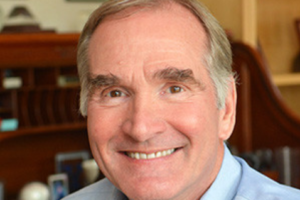 Tributes rolled in not only for his groundbreaking part in making alternative investments an integral part of public investment portfolios but for his friendship and willingness to mentor others.
"He's a titan in the industry. This is a sad day for institutional investors," said Christopher Schelling, director of alternative investments at Venturi Private Wealth and former private equity director at Texas Municipal Retirement System.
Swensen died of cancer on Wednesday, according to a post from Yale president Peter Salovey. He was 67. Swensen was a Yale graduate who had run its investment program since 1985. As of 30 June 2020, the endowment was valued at $31.2 billion.
Swensen helped kick-start a trend of big endowments piling capital into private equity and venture capital, which helped fuel institutional investor demand for alternatives that has grown into a multibillion-dollar industry. This became known as the "Yale Model" or the "Endowment Model". He also wrote two books on investing, which were highly influential.
For fiscal year 2021, Yale's target allocations included 17.5 percent to leveraged buyouts and 23.5 percent venture capital. According to the school's 2020 report, it sought to commit about one half of its portfolio to illiquid asset classes.
"David's ideas reverberated beyond Yale as he revolutionised the landscape of institutional investing," Salovey wrote.
"David wrote the book on how to run an institutional portfolio," said Chris Ailman, CIO of California State Teachers' Retirement System, in a statement. "No one can match his legacy, results, and contribution to our industry."
Swensen joined Yale in 1985, prior to which he worked at Salomon Brothers and Lehman Brothers. From his perch building out alternatives for the endowment in the early days of private equity, Swensen was able to back some of today's biggest managers, including Great Hill Partners.
"David was a dear friend of the firm, as well as a close supporter and advisor to Great Hill for over 23 years, having been involved since our very first fund," said Chris Gaffney, a managing partner with Great Hill Partners. "Not only was David a legendary investor, but he was also an extremely insightful individual who was thoughtful and generous with his ideas and guidance."
He also backed hedge fund Farallon Capital Management and General Catalyst in the early days, according to Bloomberg. "Dave absolutely put us in business," Joel Cutler, a General Catalyst founder, told Bloomberg in 2019.
Swensen's approach was not without its detractors. A recent study from Richard Ennis, the retired chairman of consultant EnnisKnupp, found that alternative investments had failed to protect pension funds and endowments during the global financial crisis, according to Institutional Investor, even going to far as to call the belief these asset classes provide better returns an "article of faith".
"Since the great financial crisis there has been criticism of the model in that it did not take into proper account the illiquidity of most alternatives, and to an extent disregarded asset/liability balance, especially during a liquidity shock," Kelly DePonte, managing director with placement agency Probitas Partners, said in an email.
Still, the model that Swensen developed is widely used today across large institutions.
"I think the real legacy should be the creativity and the innovative unconstrained approach that went into building that model as opposed to his legacy being the static kind of allocation that a lot of people have tried to mimic," said Schelling. "They allocated to private equity not because they had a top-down asset class allocation to private equity but because they found great managers."
Read more reaction here:
"David Swensen will not only be missed for his investment acumen and steady, innovative leadership as Yale's chief investment officer, but for his kind and generous spirit," Jagdeep Singh Bachher, CIO of the University of California, said in a statement.
"David Swensen was an extraordinary person," said Jim Bailey, co-founder of Cambridge Associates, in a statement to affiliate title Buyouts. "He was bold during a time when institutions still looked at investments from a simplified portfolio perspective, and he was a leader in making endowment management a meaningful career for many. Most importantly, his work materially improved investment results."
"Finance lost its greatest champion for diversification, long-termism, and creative asset allocation," John L Bowman, senior managing director at CAIA Association, a global credentialing body for alternative investment analysts, wrote on LinkedIn.
Casey D Whalen, chief executive officer and chief investment officer of Truvvo Partners, posted a tribute to Swensen on LinkedIn calling him a mentor and dear friend. "I am forever grateful for having you in my life. I miss you already," she wrote.
– This story was originally published on affiliate title Buyouts.