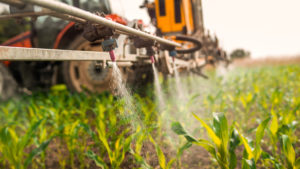 Organic crop protection producer M2i Life Sciences has raised €60m in a funding round led by ADM Capital's Cibus Fund.
M2i creates artificial pheromones in laboratories using biomimicry to produce pesticides that can ward off insects from crops. The company already sells more than 60 products across 25 countries, it said in a statement.
Alastair Cooper, head of venture capital at the Cibus Fund, told Agri Investor the firm believes synthetic pheromones that disrupt the mating of these pests "is by far the best solution for replacing insecticide use."
The combined impact of increased insect resistance to traditional pesticides, the growing number of chemicals being banned by regulators and consumer demand for more sustainable solutions made M2i an attractive proposition, according to Cooper.
"These synthetic pheromones being produced are totally natural chemicals," he said. "They occur naturally in nature and they breakdown after their use and emission. There's no residues – hopefully it's a win-win.
"M2i, we feel, is the fastest growing player in the field. It's utilizing new proprietary technology to produce a range of species-specific insect pheromones, and has developed a range of distribution relationships and mechanisms using its own IP that we think are unique."
As part of the fundraise, the Cibus Fund acquired a minority stake in M2i, the size of which Cooper declined to disclose.
Other investors in the funding round include existing M2i investor Eurazeo Growth, which has a larger minority stake in the company than Cibus, and new investors Téthys Invest, Créadev and the France 2i impact fund – all of which have smaller stakes in the company than Cibus.
Cooper also cited M2i's production of a pheromone that can alter the behavior of the fall armyworm, which attacks corn crops, as an example of the firm's potential impact on crop protection.
"The fall armyworm is devastating corn production…and it's resistant to traditional insecticides, so there's really no other game in town," Cooper said. "M2i's fall armyworm synthetic pheromone product is a solution to that, so we're excited by that and the good it can do."