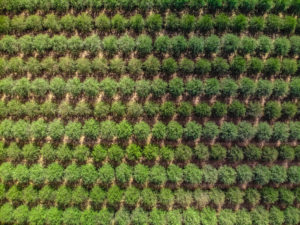 After completing its first sale in July 2018, Farmland Partners has sold a combined $67 million of assets and will continue to pursue opportunistic sales, said chief executive Paul Pittman.
The CEO declined to disclose details of individual transactions, but said the NYSE-traded REIT's sales had ranged from $300,000 to $19 million and produced returns of between 8 percent and 56 percent.
During a March earnings call, Pittman said Farmland Partners had completed about $37 million in asset sales since the publication in July 2018 of an article in Seeking Alpha, which alleged impropriety in the company's lending program.
The news led to a sharp drop in Farmland Partners' stock price. At the time, Pittman said he expected make a similar amount of sales over the following six to seven months.
Speaking last week on Farmland Partners' second quarter earnings call, Pittman said the $67 million of asset sales that had taken place since July 2018 constituted about 5.5 percent of FPI's overall portfolio.
Acknowledging that the sales had led to a 4.1 percent drop in revenues from Q2 last year, the CEO said that selling farmland had resulted in cumulative gains of 20 percent above what the REIT had paid for the properties.
"There would be few industries where you could be at this place in the market cycle and still be able to sell assets at substantial premiums to purchase price," said Pittman. "What it proves is the fundamental resilience of the asset class."
Pittman said that most buyers of the company's farmland had been individuals and not asset buyers or "our competitors." He said one of the larger sales had been to a "corporate entity" that he described as a "higher and better use buyer".
Pittman said other factors contributing to purchase prices included the potential for solar and wind projects to be developed on particular plots of land.
"You may move rents from $250 to $850 an acre on a piece of property, but those really big jumps are almost always going to be driven by a non-ag event," Pittman explained.
The farmland sales have revealed that there are a mixture of buyers in the marketplace, which Pittman said was "huge" and varied by region and crop: "An operating buyer is always a higher price point buyer than an asset manager, because there's one less level of fees and expenses in there, in terms of their return on the property." 
He added that Farmland Partners would continue to sell opportunistically.
"We do get portfolio interest," he said. "It often comes from, frankly, some misinformed person who thinks they can buy assets at a 50 percent discount because our stock price is so beat up. We shut those discussions down pretty quickly because there is no reason to entertain that discussion."
As of August 6, Farmland Partners' 1.6 million acre portfolio contained properties in 17 US states growing approximately 26 crop types.