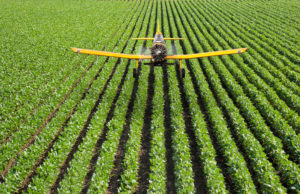 Pheromone crop protection start-up Provivi will begin selling its products to farmers next year, the firm's co-founder and CEO Pedro Coelho told Agri Investor.
The California-headquartered firm raised $85 million in a Series C funding round co-led by Pontifax Global Food and Agriculture Fund this month, alongside an unnamed "global investment fund."
"We just started sale goods to a B2B consumer and then the first Provivi-to-farmer sale will happen next year in our corn products for the fall armyworm," said Coelho.
The fall armyworm rapidly develops resistance to insecticides, feeds on more than 80 crops and has now spread from the Americas to Africa and Asia, leading the company to start trials in Kenya earlier this year, Coelho added.
Provivi's pheromone products work by disrupting the mating process of pests and limiting their ability to destroy crops.
The crop protection method has been used since the 1980s, but has only ever been used on small-scale farms growing crops such as almonds and grapes due to the costs associated with creating pheromones in a lab.
Another obstacle to widespread use has been issues related to application. Pheromone products are only effective for a limited time, which means they must be continually reapplied.
Provivi uses two production methods, said Coelho, one of them conventional biosynthesis and the second metathesis.
"Metathesis is a famous chemical reaction which won the Nobel prize in 2005. We licensed the technology from Caltech and MIT and we were the first ones to apply it to pheromones," said Coelho.
The company's patented production method saw it hit the one tonne production milestone for its fall armyworm pheromone in September. It currently has 13 products in development that can be used on crops such as soy, rice and corn.
Provivi is aiming to get around issues related to application by producing its products in liquid form, allowing farmers to apply it using existing equipment.
"In Brazil, where the farms are huge, you have to piggy-back on the existing farm schedule on the airplanes and ground schedules. The other thing we're doing for smaller farmers, like rice farms in Asia or white corn for human consumption in Africa and Mexico, is dispensers," Coelho said.
"You put the pheromone inside a bag, which looks like a teabag, and the pheromones slowly diffuses in the air and you create a pheromone-cloud."
Several firms are currently pioneering different approaches for creating and applying pheromone products due to growing criticism of insecticides, which can harm beneficial insects such as bees and ladybugs.
Pheromone crop protection products can also be used in organic farming.