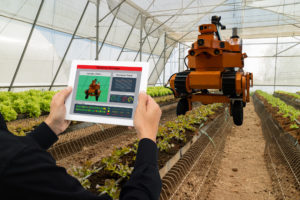 The latest report published by the UN's Intergovernmental Panel on Climate Change makes clear there must be "immediate, rapid and large-scale reductions in greenhouse gas emissions" to limit permanent and irreversible damage to the environment.
Much of the report centers on energy and carbon use, but less attention is given to the food supply chain, estimated to produce between 28-30 percent of the world's greenhouse gases by the Food and Agriculture Organization.
Many of the environmental impacts associated with food and agriculture can be attributed to diesel-powered heavy machinery and the widespread industrialization of farming. While these methods have enabled the industry to dramatically increase output and yield, they are also inefficient and harmful to health and the environment.
An alternative, more sustainable solution that ADM Capital's Cibus team believes can transform the global food supply chain is smart technology, which includes robotics, automation, computer vision and precision applications.
Innovative, data-based solutions enable more efficient processes that bring sustainability and resource efficiency to the fore. Digitalization, robotics and automation are continuing to transform many aspects of farming. According to research by McKinsey, the potential for automation in agriculture is considerable. In particular, McKinsey estimates that data collection and processing could be 90 percent automated, while predictable tasks such as tilling and harvesting could be 80 percent automated.
This revolution in agricultural technology will lead to the production of better food, using less land, less energy and fewer chemical inputs. The Cibus team believes electric motors and robotics can play a major role in shifting the agricultural supply chain back to a more sustainable footing. In theory, a single technological transition of all fossil-fueled mechanized equipment (such as tractors and harvesters) to zero-emissions alternatives could omit the largest single contributor to agriculture's greenhouse gas emissions in one go.
Robotics, computer vision and artificial intelligence can provide solutions to harvesting, data collection and pest control, coupled with a significant impact on artificial input reduction. Precision spraying, for example, can reduce the need for chemical inputs while simultaneously reducing invasive procedures that contribute to soil loss and carbon release.
A good example would be Saga Robotics, whose robotic platform has the ability to kill powdery mildew in both strawberries and vines through application of UV light at night, negating the need for chemical fungicides. The next stage for Saga Robotics is to develop a robotic fruit harvester, which is currently being trialed in the UK. This addresses a key opportunity for robotics: bolstering the fast-declining agricultural workforce, helping to carry out repetitive, laborious tasks and enabling the industry to upskill workers in areas such as strategy and creativity.
The agriculture industry's labor challenges have been brought into sharp focus in the UK. Many European workers are returning home as a result of the pandemic and stricter new visa rules due to Brexit. This has left the food sector struggling to find affordable labor. In June this year, the British Meat Processors Association announced that some processors had lost 10 percent of their workforce. Furthermore, a recent report by The Association of Labour Providers found that 78 percent of food and drink firms did not expect to have sufficient workers in 2021, with 66 percent expecting their business to struggle or be in crisis recruiting for lower skilled workers.
The industry's labor shortage is also a pressing challenge on the other side of the pond, particularly in the state of California, which is currently experiencing escalating labor costs due in part to an inability to attract new talent. Intense weather conditions and repetitive, physically demanding tasks are deterring younger generations of migrant workers, while increasing regulation and the minimum wage increase to $15 per hour by 2022 (up from $13 in 2020) is forcing growers to rethink their strategies.
In the US as a whole, specialty crops are in particular need of support. To give some context, around 40 percent of US crop output is from "specialty" crops – namely fruit, vegetable and nursery crops – which represent $64 billion and make up 83 percent of the country's crop workforce. In contrast, the other 60 percent of crop output consists of field crops, which account for only 12 percent of crop labor, with costs almost negligible. The specialty crops sector must therefore reduce its dependency on expensive human labor to undertake repetitive, physically demanding tasks.
Robotics can provide solutions to the industry's most arduous tasks, assisting laborers in the field to be more productive while also improving their welfare. For example, Burro, an autonomous farming robot company from Philadelphia, is assisting workers in the field by providing a logistics service from the pickers to the packhouse. The Burro robots work alongside human laborers, helping them to work more productively and removing tasks like moving heavy palettes of fruit from the field to the packhouse. With a single Burro robot, six to eight people can harvest up to 48 percent more fruit per day, generating a payback in just under two months for the grower.
At the other end of the supply chain, the food retail sector is also experiencing labor impact that could drastically affect supply and prices. In the UK for example, industry groups have warned that food prices could rise by around 5 percent by autumn 2021 due to a lack of staff. There is speculation that this will put further pressure on retailers' margins, already impacted by the rise of discounters market share. In 2013, the average operating profit margin for a UK retailer was around 5 percent – today this has reduced to 3 percent, according to the Office for National Statistics.
Several breakthroughs in robotics and automation are supporting the transition to a more sustainable food supply chain and are offering alternatives to a decreasing labor pool and rising labor costs. In addition, these technologies are improving efficiency, animal welfare, food safety, quality, profitability and sustainability, as well as reducing waste and providing extra services such as data collection and intelligent insights. These technologies are some of the greatest investment opportunities today, for a better, cleaner and more prosperous future.
Alastair Cooper is head of venture at ADM Capital