Bram Reijnen, regional head of food, agribusiness and water at the Dutch development bank, says the facility is designed to help the Moldovan agribusiness continue its 'important contribution to global food security.'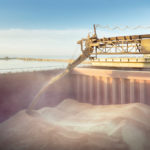 Russia's invasion of Ukraine presents challenges and opportunities for Oaktree's 2019 investment into Moldovan agribusiness Trans-Oil.
University of Illinois professor Bruce Sherrick says trade, policy and inflation trends have created the most dynamic environment for farmland since the early years of last decade.
Ceres Partners founder and CEO Perry Vieth sets out the reasons for US row crop farmland's resurgence and why investors should be optimistic about its future.
The UK and the EU are now trading under the terms of the Brexit trade deal agreed in late December. The lack of widespread friction to date is an encouraging early sign.
Favorable climatic conditions have set up a bumper grains crop in Australia. But ANZ warns the sector should prepare for 'the confluence of major global factors', including covid-19.
Country director Oleg Klein says opportunities in Russian agriculture remain for foreign investors engaged in constructive dialogue with the national government.
Managing partner Andrew Heintzman says the firm's presence and market knowledge on both sides of the US-Canada border helped drive interest among its LP base of Canadian institutions.
Decernis chief executive Kevin Kenny says some degree of scarcity and price pressure on difficult to grow and process food items is inevitable in the wake of covid-19.
Assistant professor Sandro Steinbach says China's use of new supply chains is likely to hurt the state's exports more significantly in the long term.