Perella Weinberg Partners has been appointed to find a US investor to take a 25% stake in NZ Rural Land Company's existing portfolio.
Wendy Norris helped lead the Future Fund's investment in OneFortyOne in 2012 in a previous role as head of infrastructure and timberland.
Eva Warigia has joined New Forests from the East Africa Private Equity & Venture Capital Asasociation to become associate director, investor relations, Africa, along with four other appointments.
New Forests has become one of the world's largest timberland asset managers in less than 20 years under founder David Brand, who discusses the development of forestry, agri and the firm's future alongside new CEO Mark Rogers.
The firm has named Jeff Briggs for the role, as Mark Rogers readies to step into the CEO role in April 2023 to replace outgoing David Brand.
Mark Rogers will replace David Brand as New Forests CEO, with Brand to serve as chair until departing the business in 2025.
The long-term investment fundamentals of forestry should ensure the asset class continues to shine in 2023, despite economic headwinds.
In a year of economic shocks and volatility across asset classes, the UK's forestry sector demonstrated low or inverse correlations to equities and bonds.
Eric Cooperstrom says Manulife's Forest Climate Fund will support both internally developed projects and collaborations with established carbon development companies familiar with regional methodologies and regulation.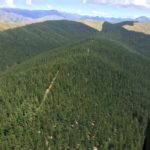 New Forests' ANZLAFF is its fourth fund focused on Australia and New Zealand, investing in plantation forestry, infrastructure and agriculture.