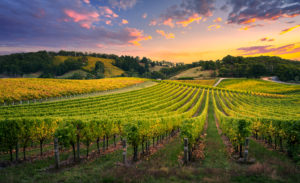 Blue Sky Alternative Investments has revealed strong performance by its water and agricultural investments in its results for the first half of the financial year, as it announced it is set to begin fundraising for a new institutional agriculture fund in the coming months.
But the firm also revealed that its lending covenants under the A$47.7 million ($34.1 million; €29.8 million) convertible note facility with Oaktree Capital Management, agreed in September 2018, "may not be met" in the quarter to March 31 2019. It said it was currently in discussions with the US-based firm "with a view to negotiating a variation and/or restructure of the covenants to Oaktree's satisfaction."
While Blue Sky declined to disclose details about the covenants, Kim Morison, managing director of its real assets business, told Agri Investor that investors should have "no concerns whatsoever."
"I'm not in a position to talk about the particular covenants. It's the ordinary course of business," he said. The firm was within its covenants at December 31 2018, and Morison stated that Blue Sky was not currently in breach of its covenants.
Blue Sky's net cash position at the half year stood at A$54.8 million, including the drawdown of the A$47.7 million facility from Oaktree. Oaktree made the funds available in 2018 through a 7-year secured-loan note facility with the right to convert the amount owing into equity, capped at 30 percent of Blue Sky shares on issue at the time.
When asked whether the renegotiation ocould result in Oaktree being able to take control of a larger stake in Blue Sky, Morison said: "I don't expect that's the case."
Star performer
Blue Sky's real assets business, now being led full time again by Morison after nine months in charge at the group level, was the business' standout performer in the half year to December 31.
The unit's funds under management reached A$1.167 billion, up from A$697 million a year earlier, a growth of 67 percent. The real assets division has recorded realised returns since inception of 18.8 percent and 21.9 percent in the last five years.
Underpinning Blue Sky's returns in real assets was its Water Fund, which returned 34.4 percent in calendar year 2018 and 15.5 percent in the half year to 31 December. The strong performance was not directly caused by dry conditions in eastern Australia, Morison said, with underlying trends in water use driving returns.
"We've invested the Water Fund in regions that have undergone or are still undergoing quite a significant change in use of water," he said.
"Yes, there's a drought this year, and yes, that's probably accelerated rising values to an extent. But if it rains, then I expect the asset values of water won't moderate terribly much, and they will probably consolidate. There's still a shortage of those permanent rights to water relative to [growers'] ability to expand."
Blue Sky said it aims to leverage its expertise in water entitlements and irrigated agriculture to launch a new institutional agriculture fund in the next couple of months. The fund will look to Asia for new capital in a first for Blue Sky.
"We haven't tackled Asia previously, as we haven't had those connections or offices up there. We are keen to get up there and see if there are investments into Australian food and agri that can be facilitated. We believe that we can tap into that for the higher-value irrigated agricultural specialities that we've focused on," Morison said.
Morison added that the ending of a major mandate would free the real assets team up to work on the new strategy, adding the firm has "a lot of proprietary opportunities, particularly in irrigated agriculture.
"We'll take the benefit of that experience, having deployed nearly A$244 million in 12 months, which hopefully illustrates to people our capacity in originating dealflow and executing on them."
Canada's Public Sector Pension Investment Board decided earlier this month to end its strategic agreement with Blue Sky, effective March 31 2019, moving its investment management in-house.
Morison also confirmed that Blue Sky's Strategic Australian Agriculture Fund held a final close on December 31, reaching A$222 million. The figure includes A$122 million raised mostly from overseas LPs, he said, alongside an adjacent mandate of A$100 million from an Australian LP.
"It's not as large as we would have liked it to be and we had an expectation that we'd have more names in there, but given the last 9-12 months, unfortunately the brand was tarnished. And despite the performance of real assets, it did mean that those conversations came to a halt and people said they'd wait to see how it played out," Morison said.
New hires
The firm is set to hire a new senior employee for its real assets team, following the departures of Michael Blakeney and Nick Waters in February 2018.
"It was disappointing to see some people move on, but we've got a passionate team here who've been reporting to myself and Michael Blakeney, and they'll now simply report directly to me and take on some additional responsibilities. It's an opportunity for them to step up, but we'll be bolstering that with another senior resource," he said.
Blue Sky's share price closed today [28 February] at A$0.75. Its shares were trading at A$10.40 before Glaucus launched its short-selling attack in March 2018.