Co-founder Daan Luining says the cultivated sausage and pork start-up wants to attract additional investors including strategics and plans to keep the round open through the end of the year.
The UK's Sustainable Disclosure Regime addresses a significant omission in the EU's SFDR: funds decarbonizing and transitioning assets to become more sustainable. What a shame, then, that the SDR has been delayed yet again.
Roberto Viton says financial distress and large asset managers' demand for nature-based assets are among the factors driving consolidation in GPs focused on food and ag.
Head of sustainable food debt Suhasini Singh says the Climate Smart Food Systems Fund will use public and private capital to provide credit to agribusinesses in the developing world.
Urgency surrounding climate change is catalyzing efforts to create new forms of public-private partnership in agriculture that appear set to be developed outside the US.
Director Trish Cozart of the US Department of Energy's Innovation and Entrepreneurship Center says the program helps validate the quality of start-up's concepts for investors.
The 15-year closed-end fund has been seeded with capital from 10 Japanese companies including Sumitomo Forestry, Japan Post Holdings, and Sumitomo Mitsui Banking Corporation.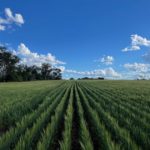 'There isn't resistance out of principle' from Australian superfunds to investing in agriculture, but barriers remain, says CEFC's Heechung Sung.
CDPQ's Nicolas Leyssieux and CEFC's Heechung Sung set out how the unusual deal to establish a farmland investment platform while taking an equity stake in Gunn Agri Partners came about.
Paul Pittman says it's not a fire sale, but the company does aim to boost its stock price in public markets that undervalue the appreciation potential of FPI's 165k-acre farmland portfolio.