The influx of investors looking for ways to gain exposure to natural capital assets continued apace this year but the Russia-Ukraine war will remain the biggest influencer of trends and markets.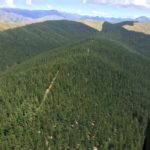 New Forests' ANZLAFF is its fourth fund focused on Australia and New Zealand, investing in plantation forestry, infrastructure and agriculture.
The firm's latest forestry vehicle is eyeing price projections suggesting a single credit could sell for more than $30 on the voluntary market by 2030.
With natural assets still waiting to be correctly valued, 'a huge arbitrage opportunity will exist for the investors that are willing to lean in,' StepStone says.
Bluesource Sustainable Forests Co. vice president Aaron Paul says the collaboration with credit-focused Oak Hill Advisors represents a 'private equity bet on the carbon markets.'
Bregal Sphere has made its debut with a natural capital investment, putting this 'increasingly important asset class' at the centre of the firm's new impact strategy.
Charlotte Kaiser joins BTG's Timberland Investment Group alongside new director of policy and external affairs Caitlin Clarke. Both arrive from The Nature Conservancy.
The French energy giant plans to develop carbon credits from reforestation, agroforestry and conservation as part of a national 'Green Gabon' initiative as it tries to offset its own emissions.
Although methane only stays in the atmosphere for roughly 12 years while carbon dioxide hangs around for up to 1,000 years, it is 25 times more potent and must also be priced.
The Canadian frozen foods multinational has a 2030 target to implement regenerative agriculture across 100% of its potato acreage.