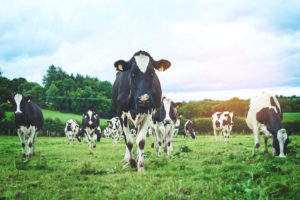 New Zealand dairy co-operative Fonterra confirmed that it expects to make a loss of NZ$590 million-NZ$675 million ($380 million-$434 million; €342 million-€391 million) this year and reiterated concerns about the state of the dairy industry in Australia.
Chief executive Mike Hurrell said in an earnings update that Fonterra's Australian ingredients division is "adapting to the new norm of continued drought, reduced domestic milk supply and aggressive competition in the Australian dairy industry."
Hurrell said in May that "excess manufacturing capacity" in Australia was also the "new norm" due to ongoing dry conditions.
The "tough but necessary decisions" the firm has had to take because of the market conditions include closing its factory in Dennington, Victoria, the CEO said. This will result in a one-off impact of approximately NZ$70 million, which includes goodwill that has been written off in the business.
Fonterra will report its FY19 results in September. Writedowns for the year across the business are expected to total NZ$820 million-NZ$860 million, as a strategic review of all the firm's assets announced in September 2018 continues. That review was launched after the co-operative reported its first-ever annual loss totaling NZ$196 million in FY18.
As well as its Australian business, Fonterra will also writedown approximately NZ$200 million from each of its New Zealand consumer businesses, its Dairy Partners America Brazil business, and its China Farms business, with the latter writedown due to "the slower than expected operating performance."
Hurrell added that while the extent of Fonterra's participation in the Chinese fresh milk market was still under review, it "continues to look promising and is growing."
The reviews into China Farms and DPA Brazil were announced in May, with Fonterra saying that it had agreed with partner Nestlé to consider a sale of their respective stakes in the DPA Brazil venture, which distributes chilled dairy products throughout the country. Performance in the business was improving but was "slower than expected," Hurrell said.
The firm said it would also not pay a dividend to shareholders this year.
"We're in no doubt that farmers and unit holders will be rightly frustrated by these writedowns. I want to reassure them that they do not, in any way, impact our ability to continue to operate. Our cashflow remains strong, our debt has reduced and the underlying performance of the business for FY19 is in-line with our latest earnings guidance of 10-15 cents per share," Hurrell said in a statement.
When Fonterra announced its first annual loss last year, it put the difficulties down to several large asset writedowns and a squeeze on margins due to an increased farmgate milk price and higher operating expenses.
The co-operative sold the livestock division of its Farm Source business to Carrfields Livestock in January 2019.