The Australian government's proposed intervention in Murray-Darling Basin water markets should be good news for investors in terms of values – but it may come with additional scrutiny should weather conditions get drier.
The emergence of frontrunner Javier Milei is a microcosm of the country's longstanding desire to break free of its shackles as well as the all too familiar upheavals that have been its undoing.
A confluence of events could lead to increased food scarcity in 2023, with knock-on effects for prices and an increase in the attractiveness of controlled environment production in hot countries.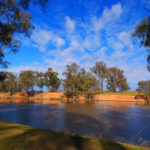 After several years of drought and record-high water prices, the outlook for irrigators in the Murray-Darling basin over the next 12 months is positive, say Aither's Chris Olszak and Erin Smith.
Following fires and drought, the covid-19 pandemic presented a new challenge for Australia's farmers, but financial returns for investors have remained steady and attractive.
Fundamental shifts in supply and demand, with increased plantings of permanent horticulture, will increase reliance on carry-over water and inter-valley trades.
A combination of factors led JBS to close a processing facility in Queensland this week in a sign of the challenges that Australia's beef exporters are set to face in the coming months.
Regulatory risk and climatic conditions are the culprits behind a drop in the value of water entitlements in the southern MDB, the first in four years.
Federal report finds water inflows to the MDB have reduced because of climate change, leading to a decline in the reliability of general security water entitlements in some parts of the system.
The NCREIF Australian Farmland Index, which is heavily weighted to permanent cropping, shows total returns held up fairly well despite drought across much of eastern and northern Australia.