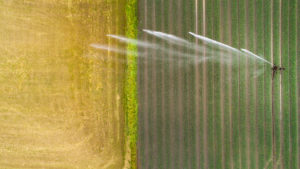 Investment in irrigated agriculture does not have to come at the expense of the environment, the chief executive of Kilter Rural has said, as the firm steps up fundraising efforts on two new funds.
Cullen Gunn told Agri Investor: "These things are all interdependent. We don't believe it's either/or, that you're either farming or protecting the environment – we do both together."
He was speaking to Agri Investor following the launch of two capital raisings for two funds in recent months: the Australian Farmlands Fund (AFF) and the Kilter Water Fund (KWF).
The AFF raised A$20 million ($14.1 million; €12.5 million) for its first tranche in October last year. The fund has a total capital raise target of A$500 million, to be gathered in A$100 million tranches.
The 10-year closed-end fund will target impact investments in farmland, water and ecosystem assets in the southern Murray-Darling Basin, Gunn said, and aims to achieve returns of 10-12 percent through 50 percent yield and 50 percent capital growth.
"The strategy is to invest in landscape transformation to get asset value uplift, which will be built on new, highly efficient irrigation systems," he said, adding that there were "under-utilized and under-capitalized assets" in the region.
"It builds on our experience identifying under-utilized farmland with secure water access, protecting and enhancing the ecosystems within that areas at scale, and deploying infrastructure and technology to develop really efficient irrigation systems – and deliver, ultimately, much higher-value crops."
As well as the Australian Farmlands Fund, the open-ended Kilter Water Fund, established in June 2014, reopened for investment in March this year. The vehicle invests in water entitlements in the southern Murray-Darling Basin and has achieved annualized returns since inception of 16.71 percent. It had approximately A$12 million of assets under management as of March 2019.
KWF was previously subject to a non-compete clause with the Balanced Water Fund (BWF), a vehicle established by The Nature Conservancy Australia whose water portfolio is managed by Kilter Rural. The clause meant Kilter was unable to raise further capital for its own fund until this year.
The open-ended BWF has achieved 16.77 percent returns since inception and donates a variable portion of its water to environmental outcomes each year, depending on weather conditions. It had A$47 million in AUM as of March 2019.
Kilter Rural recently produced what it says is Australia's first crop of organically-grown processing tomatoes, which were grown near Lake Boga in north-west Victoria and processed at Kagome Australia's plant near Echuca. The tomatoes were then packaged at Ardmona in the Shepparton region.
Gunn said the organic tomatoes had been grown with a long-term offtake agreement in spec and that Kilter "hardly ever" grows crops on spec. "We've got unmet demand for all our organic crops, and the Australian Farmlands Fund will help fill that gap where we haven't been able to produce," he said.
"The tomato crop was only 40 hectares – which is big when you're growing organics – but we could have sold that produce four times over. They're the type of crops we're targeting."
Sydney-based firm Regal Funds Management acquired 50 percent of Kilter Rural last year. Gunn said the investment had proved a "nice fit" and was working well for both sides.
"RFM brings a whole different range of potential investors [to us] and we bring them a whole different range of products that they can put in front of investors. It's been terrific, really productive, and they've introduced us to a whole new network of people," he said.