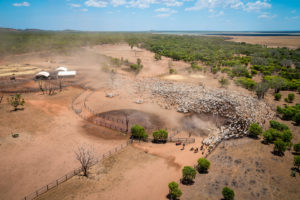 A new research project will explore options for encouraging investment in agriculture in northern Australia.
The initiative has been designed by the Cooperative Research Centre for the Development of Northern Australia, in partnership with the Australian Trade and Investment Commission (Austrade), with research to be delivered by consultancy PwC.
CRCNA said the project team over the next seven months would engage with "a range of investment interests and stakeholders". These would include representatives from state, territory and federal government agencies, such as the Department of Foreign Affairs and Trade.
It added that other stakeholders would be consulted, such as trade and investment bureaus, primary industry departments, businesses led by traditional owners of land and economic groups, and global investor networks identified by PwC, Austrade and state and territory investment attraction agencies.
The final research report with recommendations will be presented in early 2020.
Minister for natural resources and northern Australia Matt Canavan said the report would produce a "comprehensive analysis" of parties interested in investing in the region.
"The team will look at the risks associated with new agricultural development in the north and the types of investors who are best suited to manage the risks and encourage economic growth and development," he said in a statement.
CRCNA chair Sheriden Morris said the research would help produce a clear way forward for agriculture in the region.
"At the end of this project, the CRCNA, Austrade and key stakeholders will know the investor types who have the appetite and expertise to manage the risks and uncertainty of new agricultural development in the north," she said.
"We want these investors to know northern Australia is open for business and they can invest here with confidence."
Austrade senior investment specialist Anne Maree Weston added that investors were wary of both "real and perceived challenges" in northern Australia, but said the project would help "outline a clear pathway to success".
Market observers have speculated before about the potential for growth in agricultural output in the far north of Australia. However, challenges around infrastructure and access to water have made it difficult to develop the industry.
CSIRO, Australia's national science agency, last year published an assessment of water resources in northern Australia. It found that water harvesting, dam-building and increased use of groundwater had the potential to support up to 988,420 acres (400,000 hectares) of dry-season and irrigated cropping.