Capital markets lead Kavitha Sampath says non-operating landowners are among potential customers for rural loans being offered in partnership with Compeer Financial and Evergreen Bank.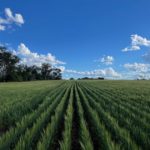 Australian farmland recorded a 'solid' annualized return for Q3 2022, but returns on a quarterly basis fell to just 0.1% as both income and capital growth stall.
A renewed focus on the importance of diet and nutrition, as well as enthusiasm for more sustainable crop inputs and alternative materials, continue to provide opportunities for agtech investors.
The start-up is working on ways to economically deliver plant trait development and has a product in market that aims to increase yields while lowering fertilizer use.
Partner Liz Harrison says a decrease among US producer respondents willing buy inputs online reflects large suppliers' lack of commitment to digital channels and the growing role of trusted agronomists.
Ponsi Trivisvavet says the Series D will support development of the Flagship Pioneering-backed startup's next-generation corn and soybean seeds, which are likely to reach markets within a 'couple of years.'
The agtech start-up received a $10m investment from the Gates Foundation to deliver a biodegradable version of its alternative input to smallholder farmers.
Partner Nicolas Denis says covid-19 has helped erode European farmers' skepticism of buying inputs and equipment online, which only accounts for annual sales of €150m to €200m in a €138bn market.
PowerPollen already has licensing and research partnerships with Corteva and BASF and plans to market directly to individual farmers over the long term, says co-founder Todd Krone.
Unfold Bio has received an initial $30m in start-up capital from the two founders but future funding rounds could be opened up to external investors.