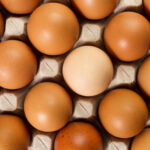 The Sydney-based private equity firm will invest in Pace Farm through its Premium Food Fund, which is the vehicle's sixth investment.
Insects represent a sustainable livestock feed alternative but British regulation is stuck with the same barriers erected in response to 'mad cow' disease in 2001, say Rachel O'Connor and Peter Smithers.
Co-founder Daan Luining says the cultivated sausage and pork start-up wants to attract additional investors including strategics and plans to keep the round open through the end of the year.
The vehicle has made five investments to date and plans to build out a portfolio of 20-25 companies all geared towards supporting ocean health.
Participants at the Future Food-Tech Alternative Proteins conference in New York drew encouragement from the USDA's approval of cultivated chicken while examining challenges and opportunities across a diverse set of markets.
The CEE manager sold Polish canned fish company Graal for a 3x cash-on-cash return after focusing on governance and water wastage.
A renewed focus on the importance of diet and nutrition, as well as enthusiasm for more sustainable crop inputs and alternative materials, continue to provide opportunities for agtech investors.
Quirch has a strong customer base among small supermarkets and independent chains and the Colorado Boxed Beef acquisition will give it exposure to national US chains.
From Turkey to the US, private equity is eyeing up opportunities across the world and throughout the value chain, with little sign of a diminishing appetite.
Equinom founder and CEO Gil Shalev says the firm's naturally-bred yellow peas will have as much as 50% protein content.