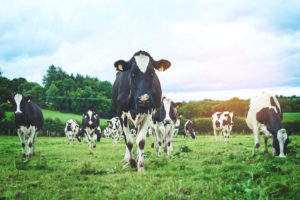 Netherlands-headquartered artificial intelligence agtech company Connecterra raised €7.8 million in a Series B funding round, in which ADM Capital's Cibus Enterprise Fund made an investment of an undisclosed size.
The dairy agtech start-up's Ida platform, which is already being used by industry giants such as Danone, Bayer and Kersia, has delivered "fabulous results," ADM Capital senior investment director Alastair Cooper told Agri Investor.
The platform draws on a combination of sensors, animal data, AI and third-party enterprise data to give farmers insights into the welfare of livestock and animal feed. It also connects to a farm's business management software to find efficiencies.
"[Clients are getting] the sort of results that reduce antibiotic use by 50 per cent, totally get rid of the need for any hormones, reduce labor use by about 20 percent and increase overall farm efficiency by about 30 percent," said Cooper.
"It increases the fertility of the cows, the lifespan of the cows and the net effect of all those things is improved welfare and improved sustainability of dairy production."
Connecterra will use the funding to increase the speed of rolling out its product range, which is currently available in the US and Europe, and is being tested in New Zealand.
One of the reasons the start-up is now arguably the market leader in AI and business insights for dairy farmers, said Cooper, is because Connecterra founder and former Microsoft executive Yasir Khokhar developed his idea by looking at it from the software engagement angle.
"He was used to developing what customers want in terms of a software and product, which has functionality and value built into it," he said.
"They've approached things from a very different way to other sensor developers, most of which started as hardware companies providing sensors which give farmers data for them to interpret themselves."
Other investors to join the round include Kersia and Dutch impact investor Pymwymic, as well as existing investors Breed Reply and Sistema_VC.
Cooper confirmed the Cibus Enterprise Fund intends to participate in any further funding required by Connecterra.