The sale price of A$100m for Cherylton Farms is a record for the region for a mixed-farming asset sold on a walk-in, walk-out basis.
Peoples Company's annual Land Investment Expo saw attendees trying to predict the direction of US interest rates, geopolitics and the weather – but the centrality of government support only appears to be heading in one direction.
Tengelmann Growth Partners led the round, with participation from existing investor Emil Capital Partners.
Beetaloo Aggregation in Northern Australia presents 'huge' carbon offset opportunity across more than 1 million ha.
Empowering female decision makers in ag is an important step toward building a more prosperous food system, says Women in Agriculture initiative director Leonor Gutierrez.
Mark Rogers will replace David Brand as New Forests CEO, with Brand to serve as chair until departing the business in 2025.
The Chubb Review into the framework surrounding ACCUs has produced 16 recommendations that will help to increase certainty in Australia's carbon market.
A government-commissioned review into Australia's carbon crediting framework has backed the scheme as 'well-designed' but calls for improvements to transparency and governance.
The vehicle has secured €35m in cornerstone investments and will build out a 12,000ha portfolio of greenfield and brownfield assets.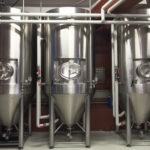 The agtech start-up is one of many new companies using precision fermentation to develop alternative protein products.