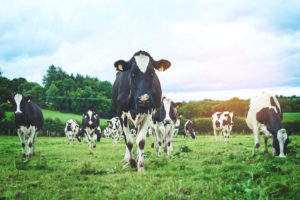 New Zealand formed the Primary Sector Climate Action Partnership in 2019 to design a practical and credible system for reducing greenhouse gas emissions at the farm level.
The partnership delivered its recommendations earlier this month and it did not disappoint – the group recommended that New Zealand become the first country to tax methane and carbon emissions from livestock by 2025.
"He Waka Eke Noa [the Primary Sector Climate Action Partnership] is recommending farmers pay a price on agricultural emissions on a farm level, split-gas levy which will have built-in incentives to reduce emissions and sequester carbon," explained independent chair Michael Ahie.
"Farmers would calculate their emissions and work out a levy – what they owe – for their methane and long-lived gasses. They would subtract any incentives they had or were doing in terms of on-farm practices and technologies such as inhibitors, for example, and they would also subtract the amount of carbon that is sequestered on their farm and that is the levy that farmers would pay."
The money generated by the levy would be used to fund the system and to invest in the research and development of new practices and technologies to reduce emissions.
One of the first things to say about this recommendation is that it is not a complete surprise. New Zealand's Emissions Trading Scheme, though highly regarded for its integrity, has long been criticized for its exclusion of agriculture, which is the country's most polluting industry.
According to New Zealand's official data agency, NZ Tatauranga Aotearoa, agriculture, forestry and fishing contributed 51 percent of total emissions in 2019, of which 73 percent was methane that mainly came from livestock.
With this national context in mind and taking into consideration the fact that New Zealand has a population of 5.1 million people – who are comfortably outnumbered by their 10 million cattle and 26 million sheep – a levy on emissions from livestock seems a sensible idea.
Another very clear context cue is that carbon emissions – regardless of the industry from which they originate – look as though they will have a price attached to them sooner or later as part of the international effort to tackle global warming.
Although methane only stays in the atmosphere for roughly 12 years while carbon sticks around for up to 1,000 years, methane is more than 25 times more potent than carbon dioxide at trapping heat in the atmosphere. Clearly, it also needs to be priced and controlled as part of the effort on global warming.
The Climate Action Partnership added that 61 percent of New Zealand's farmers already know what their farm-level emissions are, and 21 percent have a written plan in place to tackle their output. What's more, 100 percent of farmers are expected to know their numbers by the end of the year. By 2025, they are also expected to have a written plan in place.
The response to the recommendations from New Zealand agriculture minister Damien O'Connor and climate change minister James Shaw has been positive, although somewhat predictably, certain quarters of the global media have expressed their bemusement, such as Sky News Australia host Chris Smith, who said "a laughing stock comes to mind," in reference to the idea.
With O'Connor reiterating the government's commitment "to pricing agricultural emissions to ensure their reduction from 2025," the levy seems likely to be taken up by New Zealand in some shape or form. The cabinet will decide whether or not to proceed with the levy by the end of the year.
The government will have no desire to upend its economy, given food-related exports account for seven out of the country's 10 biggest exports. But as long as it can get the levy right, that has to be a positive development.